Weddings • Receptions • Quinceaneras • Bar/Bat Mitzvahs • Holiday Parties • Social Gatherings & Banquets
THE RED OAK BALLROOM
Services Offered
Our goal at the Red Oak Ballroom is to provide you the event you want with the services offered that meet all of your needs. We do offer Wedding Packages for those who prefer the simplicity of all the services bundled together at a set price, but where we really shine is working from your vision of the perfect event. And, coming from our experience of hosting hundreds of events, we are ready to offer suggestions and solutions to potential problems you may not have thought about. The services offered by Red Oak Ballroom allow us to take the anxiety out of planning your day.
Services Offered:
•  Complete Packages Available
•  Delicious Full Catering Options
•  Hosted or Cash Full Bar Service
•  Choose Standard or Upgraded Linens and Decorations
•  Customize Your Event to Meet Your Dreams or Budget
•  Ample, Free Parking
Transparent Pricing
All things being equal, people do business with people they trust.  The Red Oak Ballroom prides itself on showing you the total cost of your event and not tacking on hidden fees. If you don't change any of the services contracted the price remains what we agreed upon. If you need to change any services (this happens) we'll show you the new bottom line before your event. We want to call you after the event to see how everything went, not to say you owe us more money. This is just one of the stellar services offered by Red Oak Ballroom.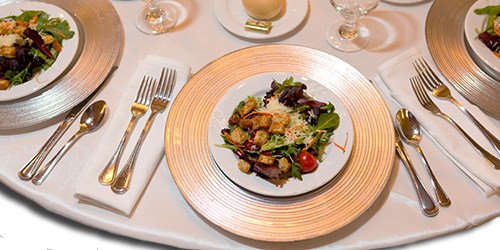 Red Oak Ballroom was one of many venues my husband and I considered for our reception. Because a majority of our guests were from out of town, we wanted the venue to be conveniently located near hotels and our wedding ceremony venue,  and be reasonably priced with as much already included as possible. Red Oak Ballroom fit the bill. From the beginning, the staff was so easy to work with. They gave us great suggestions on their catering menu, the room setup, and outside vendors. Their wedding package included tables, linens, dishes, and staff that really helped us maximize our budget. They worked with us to customize the bar options, host a band, and have a sparkler send off. Our wedding coordinator and outside vendors also had plenty of time to setup and cleanup. Most importantly, the Red Oak Ballroom team was very professional and worked well with my wedding coordinator and her team. Overall, the Red Oak Ballroom was a great place for us to celebrate with our guests!
LAUREN D,
via THE KNOT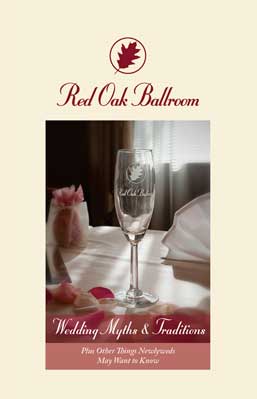 THE RED OAK BALLROOM
Wedding Myths & Traditions
Ever wonder why the groom tosses the bride 's garter? Why does the bride wear a wedding veil? Does Germany have different wedding traditions? These questions and many more, are answered in the Red Oak Ballroom's "Wedding Myths & Traditions" booklet.
If you would like a copy, contact us now to set up an appointment to tour the Red Oak Ballroom. We'll have a complimentary copy of our Wedding Myths & Traditions booklet waiting for you.
THE RED OAK BALLROOM
Imagine the Possibilities:
---
We have a world of food options. From passed hor d'oeuvres to seated meals.
Guests should come hungry and be ready to be impressed. Hosted and cash bar service
options are available. We also have several bar packages if you prefer to make choices simpler.
Note: Outside alcohol is prohibited by State Law.